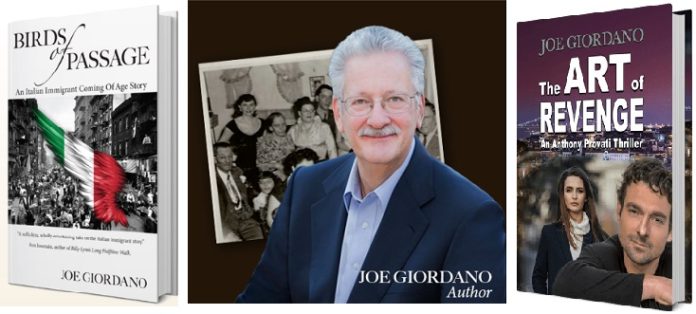 Interview by Tiziano Thomas Dossena
Joe Giordano was born in Brooklyn. His father and grandparents immigrated to New York from Naples. He and his wife Jane now live in Texas.
Joe's stories have appeared in more than one hundred magazines including The Saturday Evening Post, and Shenandoah, and his short story collection, Stories and Places I Remember. His novels include Birds of Passage, An Italian Immigrant Coming of Age Story, and the Anthony Provati thriller series, Appointment with ISIL, Drone Strike, and in June 2022, The Art of Revenge.
Joe was among one hundred Italian American authors honored by Barnes & Noble to march in the 2017 Manhattan, Columbus Day Parade.
Joe Giordano was one of the authors featured with his short stories in Volume Two and Three of "A feast of Narrative, an anthology of Italian American Writers," edited by me.
L'Idea Magazine: Hello Joe. How did your Italian roots influence your writing career and your life in general?
Joe Giordano: My Italian roots dramatically impacted both my life and my writing.
Jorge Luis Borges famously asked, "What will the world lose when I die?" When those of my generation pass, first-hand knowledge of the Italian immigrants who arrived in the great wave of the early twentieth century will be gone.
As with the character Guido Basso in my novel, Birds of Passage, An Italian Immigrant Coming of Age Story, both my immigrant grandfathers were ragmen. Their labor was dirty and backbreaking, but they were their own padrone.
My father was the last immigrant in my family. He acquired just a seventh-grade education before he set out to work. Unemployed for a long period during the Great Depression, he found a job in a warehouse. Working rapidly to impress the boss, he reached up for a box atop which a vase had been left. The glass knickknack slipped and shattered onto the concrete floor, and my father was fired on the spot. Not deterred, he started his own business.
A daughter of immigrants, my mother was one of five girls employed at home doing piece work so her family could earn enough money to leave the tenement. Eventually, her family purchased a home in Brooklyn.
Despite the prejudice my parents and grandparents experienced, they never saw themselves as victims. They were too busy working, trying to make a better life for themselves and their families. When I was growing up, if my father and I passed a man doing hard manual labor, he'd say to me, "See that? Go to school." I listened. My success, as is true for many Italian Americans, was built upon the foundation given to me by my parents and the immigrants intrepid enough to try and make a better life in a new country.
L'Idea Magazine: Although you are well-known for your Anthony Provati thrillers, you also wrote other books… "Birds of Passage: An Italian Immigrant Coming of Age Story," for example, which recalls the Italian immigration experience at the turn of the twentieth century. Why did you choose such a topic? What inspired you to write this book?
Joe Giordano: My immigrant grandparents, father, and mother were the inspiration for Birds of Passage. In the novel, I tried to capture how Italians of that generation thought and acted.
Birds of Passage recalls the immigration experience at the turn of the twentieth century when New York's streets were paved with violence and disappointment. Leonardo Robustelli leaves Naples for New York in 1905 to seek his fortune. Carlo Mazzi committed murder and escaped to the U.S. Azzura Medina is an American of Italian parents. She's ambitious but strictly controlled by her mother. Leonardo and Carlo vie for her affection. Azzura, Leonardo, and Carlo confront con men, Tammany Hall politicians, the longshoreman's union, Camorra clans, Black Hand extortion, and the Tombs prison.
Kirkus Reviews said of Birds of Passage, "This riveting debut by Giordano is a refreshing rethink of the archetypal mafia novel."
L'Idea Magazine: You wrote three books where Anthony Provati is the protagonist. Could you talk about him? How does a jazz pianist, art gallery owner, and sailor get involved in international plots?
Joe Giordano: Anthony is an Italian American from New York with a mob boss uncle. He's an unlikely hero whose core competency is making poor choices and getting into deadly trouble. Often, he becomes an enemy of international criminals and terrorists.
L'Idea Magazine: The first Anthony Provati thriller is "Appointment with ISIL". Could you tell us more about that?
Joe Giordano: In Appointment with ISIL, Anthony's libido puts his life in peril after he flirts with Russian mob boss, Gorgon Malakhov's mistress. The Russian deals with ISIL, the Islamic State in the Levant and an art theft funds their scheme. ISIL's targets are chilling. The chase across the Mediterranean challenges Anthony to thwart ISIL threatening his survival.
L'Idea Magazine: Is "Drone Strike" a continuation of "Appointment with ISIL" or does it have an independent storyline?
Joe Giordano: Drone Strike, as with all three Anthony Provati thrillers can be enjoyed independently, but Anthony's life and character evolve.
In Drone Strike, Karim's family is killed as "collateral damage" by a U.S. drone strike in Iraq. The Islamic State in the Levant exploits his rage, recruiting him for a terrorist attack on the U.S., and through twisted circumstances, only Anthony can stop him. Drone Strike takes you on a fast-paced adventure across the Mediterranean, into Mexico, and finally arriving in the States. The novel also explores the psychological realities that seduce Karim to commit an act of terror, includes a love story between Moslem Karim and Miriam, a Christian woman he defends in Turkey, and highlights the plight of Middle Eastern and Central American refugees.
L'Idea Magazine: So, the trilogy ends with "The Art of Revenge" or will it continue with other stories?
Joe Giordano: The Art of Revenge concludes my focus on Anthony as the main protagonist. The novel is a riveting, action-packed, suspenseful and at times terrifying chase around the world that will have gritty thriller lovers salivating for more—a must-read for those who like hanging on the edge of the cliff by only their fingers.
Along with Anthony, the Art of Revenge features a second unlikely hero—Valentina Esposito. She was orphaned at birth but is rewriting her destiny by becoming a brilliant computer programmer. Anthony and Valentina undertake a global pursuit of murderous Russian and North Korean operatives to foil a terrorist plot funded by forgeries and the ransom of stolen paintings.
In my next novel, Valentina will take the lead role.
L'Idea Magazine: "What is your book "Stories and Places I remember" about?
Joe Giordano: Humorous and poignant, the twenty-six fiction pieces in Stories and Places I Remember will take you around the world from the streets of Brooklyn to the beaches of Rio de Janeiro, including New York, Texas, Brazil, Greece, Ireland, the Middle East, and Italy. Many have an Italian American "flavor."
As a retired International Executive Vice President of 3M, my experience included running businesses around the world, and I have first-hand knowledge of the cultures and locations I write about.
L'Idea Magazine: The big question is, will the next novel be an Anthony Provati one, or will it be on a different subject altogether? Are you working on a new literary project?
Joe Giordano: Valentina will be the main protagonist of my next thriller. Anthony will be there as will many of the other characters readers have come to know.
L'Idea Magazine: In these days of lockdowns, quarantines, isolation, and pandemic, is the writer in you thriving or suffering?
Joe Giordano: My wife Jane and I hunkered down during the first year of the pandemic, but once we were vaccinated, the "death sentence" was taken off the table, and we took our life back. I hadn't had a haircut for a year, and was resembling Albert Einstein before I finally trimmed my mane. At this point, the virus doesn't stop us from doing anything.
As a writer, you want to meet new and interesting people to stir your creative juices. I missed that during the lockdown.
L'Idea Magazine: Where do you see yourself ten years from now?
Joe Giordano: Writing and enjoying life with Jane—God willing.
L'Idea Magazine: How much of your own personal and family experiences is embedded in your books?
Joe Giordano: While I don't write memoirs, my work reflects my observations and experiences and gives verisimilitude to my work.
L'Idea Magazine: Three adjectives to describe you…
Joe Giordano: Curious. Diligent. Thankful.
L'Idea Magazine: If you had the opportunity to talk to a person, any person from the past or the present, who would that person be, and what would you like to ask them?
Joe Giordano: Jesus. How about making a comeback in the twenty-first century?
L'Idea Magazine: Do you have any secret wishes?
Joe Giordano: I'm not sure if my wish is secret, but I'd love to see my books made either into movies or TV miniseries.
L'Idea Magazine: A message for our readers?
Joe Giordano: Perhaps some advice for aspiring writers. Write about what you know and love (mostly this). Read great writers to improve your craft. Perseverance is one of life's least appreciated success factors. Accept rejection as part of the game. When the combination of your life's experience and writing skills reach the necessary threshold, you'll be published